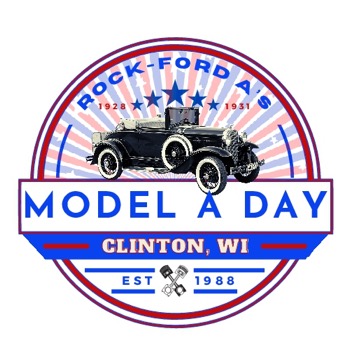 34th Model A Day - Clinton, WI - Sunday, June 4, 2023 9AM - 2PM
"It never rains on Model A Day!"
Everything is free and there's plenty of parking.
Fun for the whole family

ALL of our proceeds will go towards the Clinton food Pantry and the Clinton Community Outreach program

One of the Midwest's largest Model A events, now hosted by the village of Clinton, WI.
C'mon over and bring your friends and family!
You'll have a chance to talk to the owners and get an up-close look at these beautiful old Fords.

There will be a special spot for guests to have a photo taken in/near a couple of our best Model A's

If you are the proud owner of a Model A, this is a great time to meet other owners from around the Midwest.
Guests and villagers are welcome to dress in period apparel.
There will be vendors, music, food, door prizes and more!
Step back in time to the 1920's and 30's! Come to this annual unique event and wander through downtown streets, enjoying over 100 beautiful antique Ford Model A vehicles, along with Clinton's shops and restaurants.
There will be

a swap meet as well as a craft show with 20+ booths.

Music provided by Joe Locke - Hits DJ, Matthew Wundrow on concertina, and the Glenn Davis Band

Free goody bags given out to all who register, until they're gone.


All types of food and snacks available:

Authentica food truck

Cotton candy by Cotton Clouds

Ice cream

Kettle corn

Hotdogs and shave ice

Pie to Go - from Clinton Kitchen

American Legion selling water and poppies

Box Cars Pub & Grub,

La Guacamaya,

Clinton Kitchen

The Sundown

Rock'n Rogers



We'll have several different raffles going on!

Everyone who registers a vehicle gets a free sticker, dash plaque, personal car sign to fill out and place in their windshield, and a free admission door prize ticket for drawings announced every half hour from 9:30 to 1pm

A 50-50 raffle

Bucket Prizes - too numerous to mention

A special Winner's Choice Drawing - one winner, and one winner only! They get to choose from three items: the awesome custom built 1929 Model A truck model, made by Anne Laviolette, a rebuilt carburetor, or a rebuilt distributor.

We're also having a silent auction, including a Janome Sewist 780DC sewing machine package, which includes, a mat, needles, bobbins, free cleaning and tune up donated by Casey's Sewing Center. Other items too numerous to mention, but all are awesome!
6 Traffic Jams raffle of a 1929 Model A Speedster, custom made by Traffic Jams Speed Shop, valid title included.

Our grand finale will happen at 2pm upon the close of the show. A convoy drive out to the Luety farm in Clinton to have a group photo shoot and individual glamor shots taken of any driver and their car by a professional photographer for a special event price. This is the bridge that has connections to Henry Ford that was written up in the last Manifold News.